Friends, this is no revelation about a burgeoning wine region or indigenous grape variety... this is a revelation that
quality white wines from the southern region of Campania in Italy not only CAN age, but are even BETTER with age.
Who'd a-thunk? Not this Minx.
First of all, Fiano di Avellino and Greco di Tufo are not grape varieties that most wine drinkers are familiar with, unless you happen to live next door to an Italian wine bar. As with many Italian varieties, they are indigenous to that part of the country, along with around 100 others; check out this great map I stole from
vineyards.com
that shows the main pockets (the two varieties in question are in the more center grouping:)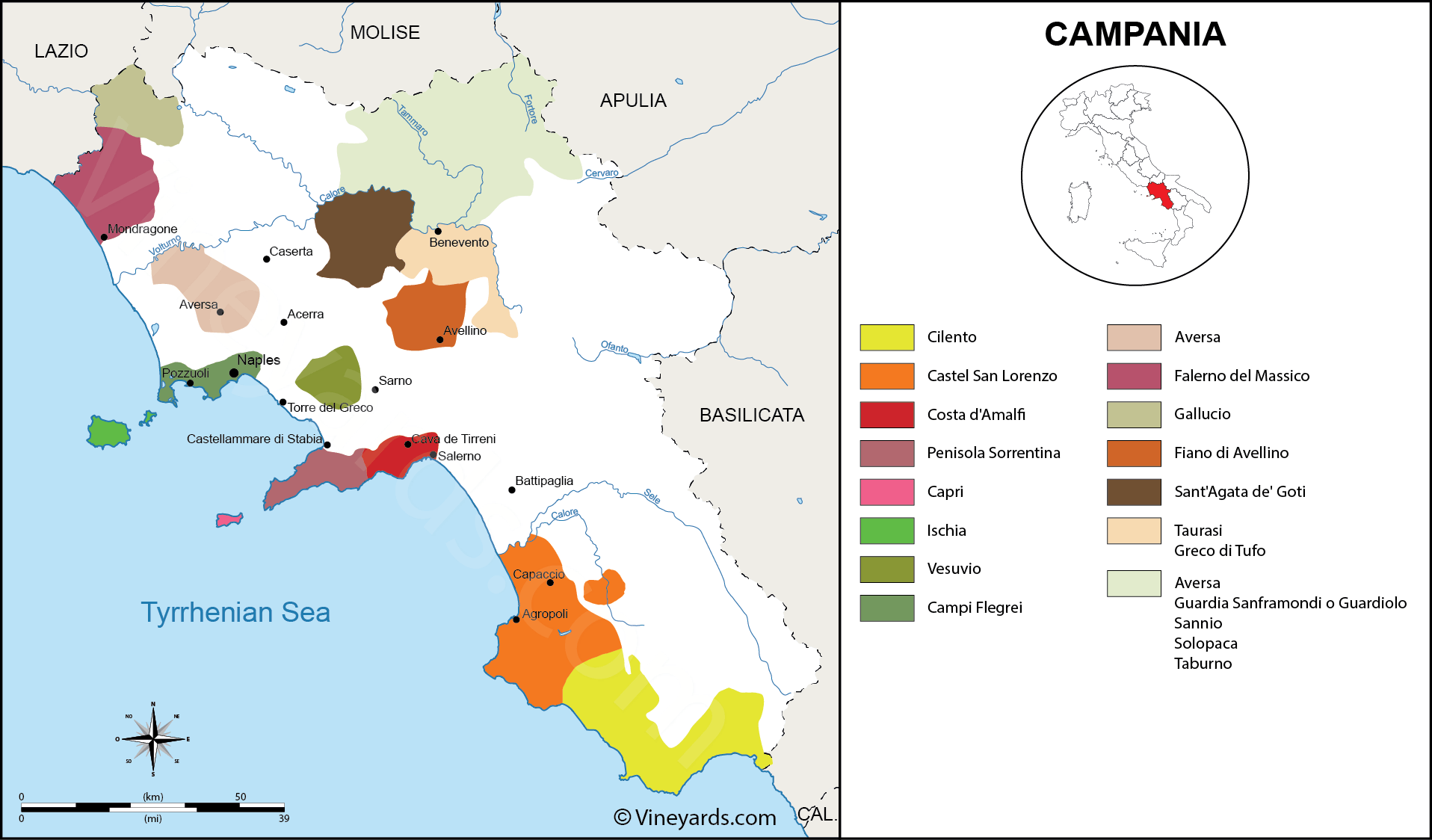 Secondly, most white table wines are meant to be consumed within a few years of release, that's just the nature of the beast. (I tell my wine students to be wary of a white that's 5-10 years old on the shop shelves because it's probably been sitting gathering dust way too long and will be B-A-D, bad.)
NOT THESE BABIES. I am seriously considering running out to every store in Manhattan in the vain hope that they might have one of these still lying around! That is the one caveat -- stores likely won't sell the older versions because they do typically get drunk up earlier. So, listen to the Minx's sage advice:
You should buy a case right now of a good vintage.
Enjoy a bottle every now and then.
But put six bottles in the corner of your cellar and forget about them.
Set a reminder on your iPhone for 2029.
Then start popping one a year for the next six years.
YOU 👏🏻 WILL 👏🏻 NOT 👏🏻 REGRET 👏🏻 IT👏🏻!
And... you can afford to do this little experiment, because these wines are available for about $16-19 bucks. The return on this investment would make Wall Street envious!
Let me show you what I mean...
Recently I tasted three vintages of
Azienda Agricola Petilia & Solina's Greco di Tufo
. The
2015
was linear, clean, with fresh notes of lemongrass and light apple, juicy but lean. The
2014
had a delectable nose of green plum, with a minerally, herby zing, and it developed a lemony richness in the glass. But the
2009
had gorgeous perfume of dried mountain flowers, was dense and complex, with layers of flavors of straw, citrus, fruit, and in no way seemed ten years old.
I also had a flight of
Donnachiara's Fiano di Avellino
. The
2013
had caramel apple, lemon, high tone herbs, ginger, was a bit savory, with sneaky-uppy acid, and a little bitterness on the finish like that of menthol/ eucalyptus. The
2009
was not a great vintage for Fiano, so this one was a bit oxidized, though still sound, with a steely-brassy feel; less "taut," though had good tingly acid and a long finish. But the
2007
had a gorgeous nose of yellow flowers, brown butter, lemon curd, with spry acidity, and a juicy, honeyed richness. My notes say, "wow -- stunning." Again, no earthly clue that this was a TWELVE year old white table wine.
Both winemakers happened to be women, which I appreciate tremendously, and there is a history of grapegrowers-turning-winemakers in the southern half of Italy so they both come from a long family line. The Petilia wines are a bit harder to find in the U.S., though Donnachiara has good availability. They both also make plenty of other wines (Petilia does a Greco and Donnachiara does a Fiano, for example, but both portfolios also include the iconic Campanian Taurasi -- a red wine from Aglianico that [less-surprisingly] can also age well -- among many others.)
So the point is: knock aside your perceptions that slurpable table wines are only meant to be consumed immediately, as I have, and try and get your hands on some of these killer bottles to set aside. If you have the patience (I know, it's HARD,) the rewards will pay off tremendously... in a decade or so!
Cheers.